It starts in the mind and the body will follow.
It always fascinates me to hear what athletes are saying to each other during competition. It gives a different point of view; a raw, unfiltered glimpse into the chaotic mess that is presented so beautifully on television. Like Velon's video of John Degenkolb setting up to sprint in the final kilometers of a race. But it's not often that you hear a player's inner voice, their internal dialogue, recorded. After all, it typically remains quite private.
And yet, when I watched the NFL's Mic'd Up Superbowl LIII video - defensive super star Aaron Donald was talking to himself over and over and over again.
"One game. One game.
"This is what you worked for. All that time spent training."
"Make a play. Make a play. Make a play."
"Controlled aggression. Controlled aggression."
"Lock in. Lock in."
"Be great. Be great."
"You gotta want it. You gotta want it."
"Don't be denied. Find a way."
"Let's be a champion."
This resonated with me because I used to give myself pep talks during intervals and races, although I never had enough breath to say any of it out loud!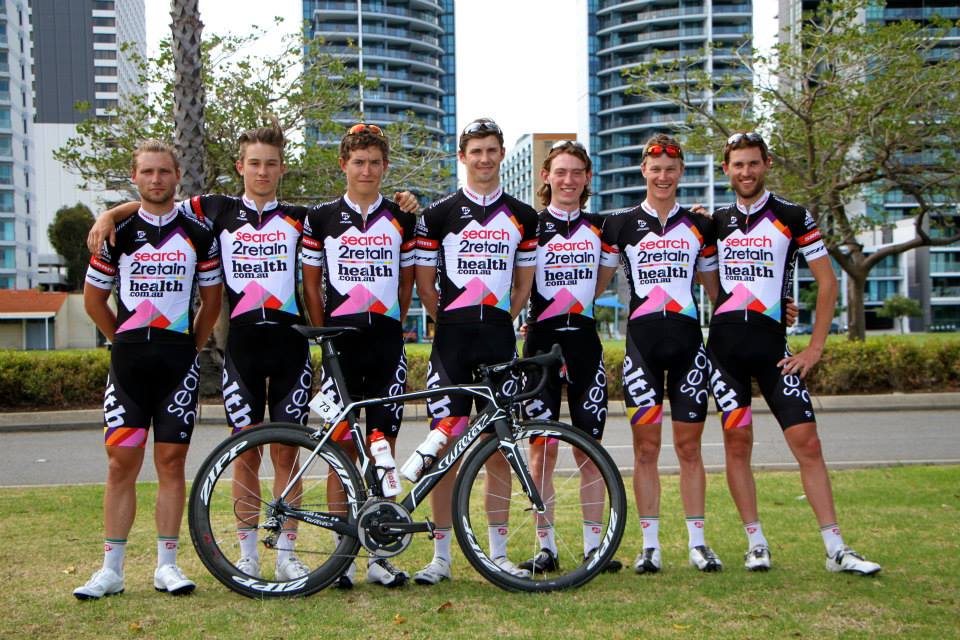 Look at that face! I was already dreading Mt. Macedon.
In 2015, I moved to Australia to race for a pro team, search2retain/health.com.au. One of my first races with them was the Jayco Herald Sun Tour in February and the first stage started at the very bottom of a 5.7km/3.5 mi climb called Mt. Macedon. I am not a climber and I was afraid going into the stage.
The race began and all hell broke loose from the very bottom. Guys were going ballistic, there was a tail wind which made it faster, and I was quickly distanced from the front. I remember panicking, thinking this is the worst way to start a new year with a new team. I kept getting caught by groups of riders and getting dropped. Over the top of the climb, I was in last place, just 30 seconds from a group of riders. I took every risk I could on the descent (took a Strava KOM and averaged 38 mph) but when I got to the bottom, I was still alone, the tail wind had picked up, and I rode until I was pulled from the race. It was a humiliating day, compounded by the fact I was the only rider to not make it back to the peloton.
As if that embarrassment wasn't enough, the next day, being disqualified from the race, I was dropped off at a train station (a wild story for another time) as the team continued to the start of stage 2. I was shattered.
During my trip home, I reached out to a friend of mine with a PhD in cognition under stress. He told me that all those negative thoughts were getting in the way of the only things you truly have to do while on a bike:
Breathe and pedal.
All the anxiousness and fear was caused by these negative thoughts which were restricting my breathing, my muscles, my circulation, my very being when all I had to do was
Breathe and pedal.
It became a mantra for me when things got difficult and the negative thoughts attempted to shout their way in. A process to drown out the negativity, regain positivity, focus on what matters.
"This is too hard"
Breathe and pedal.
"I can't survive the next ascent"
If it was easy, everyone would do it. Breathe and pedal.
"This headwind sucks"
You are so strong. You love headwinds. Breathe and pedal.
It takes practice to do this. The body doesn't want to be in pain. It wants to stop. This inner conflict is at the heart of endurance sport. It starts with the mind and the body will follow.
I was recently talking with another cycling coach about this phenomenon, how attitudes are self fulfilling prophecies. How a mindset going into and during an interval or a hard moment can set one up for success or failure.
My friend shared an athlete's data chart with me and in it, you can see the athlete grapple with one final all-out interval after a hard session. Afterward, the rider said he began doubting himself about holding the correct power numbers. "I didn't care about the numbers" my friend told me, "I just wanted him to get through it but he talked himself out of it."
I'm not promising that this internal dialogue will make a 20 min FTP test any easier or the lactic acid will burn less. In fact, sometimes it will feel like you are lying to your own face. "It's not a lie if you truly believe it", an old coach told me once.
And then maybe one day, you will actually be excited by a vicious headwind or a long climb or relish in the cleansing pain of a VO2 max interval. It starts in the mind and the body will follow. Just
Breathe and pedal.
Breathe and pedal.
Breathe and pedal.